Paul Doherty is Chairman of theBIMcompany, President and CEO of the digit group, inc., and Co-Founder of the AEC Hackathon. Paul has a prolific portfolio of work in BIM and Smart Cities. He is coming to Dublin to speak at the first event of the CitA Smarter Cooperative Building Series 2016 on 10th February. Paul's presentation will be titled: "BIM 2.0: Building Digital Momentum for Ireland's AEC Community".
Paul talked to BIMIreland.ie about BIM, BIM in America, his large portfolio of work and the future of BIM and AEC education.

Please tell us why and when you became interested in BIM?
I was a CAD jockey since 1987, using CAD in ways in a Design Build firm that challenged the basic use of being an electronic pencil. Because everything we designed we built, CAD as a real time communications tool was critical to our firm's success and differentiated our firm in New York from anyone else. I used Lotus Notes to communicate design intent and RFI's via dial up modems on portable computers in the field. By 1993, I moved from Lotus Notes to the Mosaic Web Browser, and by 1994 our firm was using the Web for project management. We were using 3rd party tools like Softdesk to enhance our AutoCAD use, and began to experiment with 3D as part of our construction document process, allowing the download of these documents directly from our project specific web sites.
Around 1998 I was approached by an Object Oriented, Parametric CAD start-up called Charles River Software. We were hardcore users of CAD and struggling with 3D, but excelled with distributing our digital work into the field by leveraging the Internet. I had book published in 1996 by R.S. Means called, "Cyberplaces: An Internet Guide for Architects, Engineers and Contractors", which was a best seller that documented our use of the Web and other Internet tools to improve our Design Build workflows and processes. Charles River Software read my book and saw the projects we "Web-enabled" and asked if I could assist them with getting their Object Oriented, Parmetric CAD program into the market. I agreed as an equity stakeholder and I began to use and market Charles River Software. We changed the name of the software to Revit and were using Revit heavily on our projects. I was also able to get friends of mine who were CAD mangers, CIO's, etc. in AEC firms in the United States to adopt a few seats of Revit and provide feedback to me. One person in particular who I introduced to Revit was Arol Wolford, the publisher of my book and the CEO of CMD Group in Atlanta, Georgia. CMD was the second largest publisher in the US of AEC related periodicals and AEC data, like market data, project data and building product manufacturer information. Arol was invited onto the Board of Revit and immediately saw the opportunity to change the global AEC industry, as he saw his industry data married to Revit to develop a new tool for architects and engineers to design the built environment.
The hypothesis was captivating… allow designers to specify all building product information for a project through Revit as an authoring tool, provide the building product manufacturer's information when their product is specified via a Web connection to each model.
How is BIM being accepted in the American Construction Industry?
The US BIM market can be seen through two major points of view. Market Share based on purchased software and Market Adoption based on surveys. Both have their flaws in accurately measuring BIM, but through our own opinions based on market feedback, real world usage and sitting on the US National BIM Standards Committee, BIM in the US is struggling for mainstream adoption. There have been great strides in the past 10 years, but in order to properly use BIM, the traditional AEC business process models would have to change. Thus the rampant development of BIM-wash out of the design professions, which leads to constructors and trades developing their own BIM of the same project, not trusting the design professional's BIM. It creates a very inefficient workflow, which in most cases, BIM runs parallel to traditional workflows because at the end of the day, getting the building constructed is more important than creating BIM. This conflict has led to using BIM in the US for discreet processes like Conflict/Clash Detection, Quantity Take Offs, etc. rather than using BIM as a tool for an integrated process of developing and distributing the DigitalDNA of a building through Communication, Coordination and Collaboration. Most industry firms miss these 3 C's of BIM, thus rendering BIM as "a nice to have", not a must have tool for most AEC firms in the US today.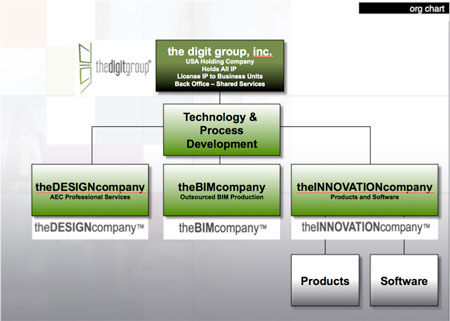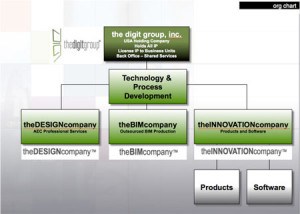 Could you tell us about the digit group, inc. and the work it does?
After developing and creating tools for the AEC and Facility Management professions (Revit – Sold to Autodesk 2002, Buzzsaw – Sold to Autodesk 2001 and TRIRGA – Sold to IBM 2011), my company, the digit group (www.thedigitgroupinc.com) decided to enter the AEC market and develop our own tools and lead by example. In other words, eat our own dog food. We re-thought what the built environment could be and began a process of master planning for Smart Cities. So we moved from being a technology development company to being a real estate development company, focused on large scale urban projects, with a mix of new greenfield cities and existing cities.   We also made the decision that if we are to deliver complete cities in a timely manner, we would need to destroy our current AEC procurement models and create something new. Being that we will be creating massive outdoor manufacturing factories, data management and communication will be the key to success. This is where our view of BIM as a data management and communication tool comes to life, rather than just being a 3D drafting tool. We don't just develop 3D graphic models, our BIM models are transaction brokers of many forms of data that are within the world's most secure digital environment.
We currently have 12 Smart Cities either in design or under construction in the Middle East, China, the US and Australia. Their sizes range from cities that will accommodate 200,000 inhabitants to over 12 million.
To deliver this massive scope of projects, with over 9 of our Smart Cities our role is being the real estate developer, we needed to change the workflow processes of traditional AEC and begin with the end use in mind as we begin our master planning. The number one question we ask is, "Who are we building these cities for?" In order to properly answer this question, we needed to create a different kind of design firm.
The digit group, inc. is a holding company that holds all of our Intellectual Property, handles all back office functions as a shared service and licenses all IP to three primary operating Business Unit's under the digit group umbrella:
theDESIGNcompany (TDC): A design firm that provides architecture, interior design, landscape design, master planning, urban planning and engineering professional services.
theBIMcompany (TBC): Outsourced BIM production and services company serving large scale project customers.
theINNOVATIONcompany (TIC): A product and software development company, focused on Smart Cities solutions that can be specified into theDESIGNcompany's projects.
There is an operating unit that primarily supports theBIMcompany in regards to process and technology support called Technology & Process Development (T&PD). This unit is comprised of process and subject matter experts that provide theBIMcompany Quality Assurance and Quality Control (QA/QC), detailed process-based models for BIM deliverables, construction services (cost, schedule, clash detection, Integrated Project Delivery (IPD)). Internally, the T&PD unit will provide process definition and implementation between the three business units, providing efficiencies and effectiveness for the entire operation.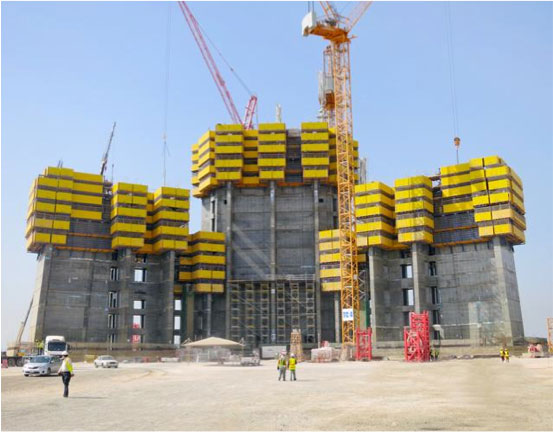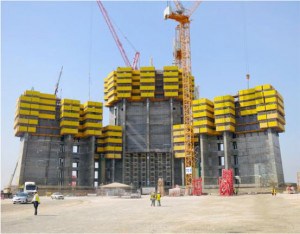 Kingdom Tower and Kingdom City, Saudi Arabia (Under Construction)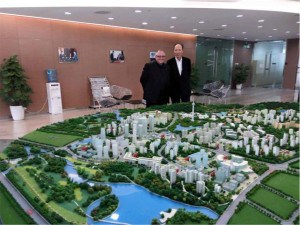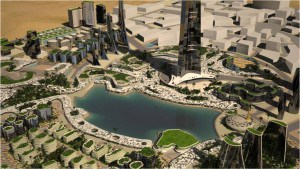 Sino-Singapore Guangzhou Knowledge City (Under Construction)
 Could you tell us about theBIMcompany and the work it does?
TBC provides BIM production and services for theDESIGNcompany's projects. TBC also provides BIM production and services to select strategic customers as a "Captive" outsourced service. Utilizing process experts and subject matter experts as part of our QA/QC process, produces BIM as an accurate data model while assuring the integrity of the data for use beyond the design and construction phase of a building. City and Building operations, safety, security, facility management, and property management are but a few solutions TBC BIM provides in a seamless and powerful way. Headquartered in Chicago in the Willis Tower (formerly known as the Sears Tower, one of the tallest buildings in the world), TBC has production facilities in Dubai, Mumbai and Delhi. Our work portfolio consists of a vast array of building types and also includes industrial and civil (horizontal) projects.
Please tell us how you got involved with the AEC Hackathon, and why AEC hackathons became popular?
The AEC Hackathon (www.aechackathon.com) was founded when AEC Technologist Damon Hernandez and I met to discuss the challenges and opportunities of our industry while I was on a trip to our office in San Francisco. Damon had mentioned that he and other business colleagues in Seattle had been attending software developer hackathon's in Silicon Valley from time to time and thought it could be a good idea to bring the hackathon idea to the AEC industry. We spent the rest of the day putting together the pieces and developed the AEC Hackathon as a hybrid-style event that has software developers, hardware innovators and AEC professionals come together over a weekend to solve industry issues by building a solution beginning on a Friday evening… and presenting a working solution by Sunday afternoon.
The AEC Hackathon is a non-profit event that is supported by registrations and sponsors and whose Board and event staff are all volunteers. At the end of the Hackathon, each team is given the opportunity to share for free their solutions so that others in the industry can either use the solution or build upon it. Our first two AEC Hackathons were held at Facebook Headquarters in Silicon Valley and has now grown into an international series of events. What Damon and I take the most pride in founding the AEC Hackathon is the community that has been built, where sharing discoveries and solutions is the norm and traditional competitors leave it at the door. AEC Hackathon attendees speak of the "coolness" factor and positive energy of every event as being an enabler of creative thinking and being among like minded people provides that sense of community that makes the AEC Hackathon a unique event for our industry.   Another great thing that has emerged from our hackathons is the adoption of the hackathon model that people take back to their firms as a form of problem solving. We know of at least a dozen examples of AEC firms forming their own internal hackathons as a form of R&D and innovation development. We are conducting AEC Hackathons at the rate of about one every six weeks somewhere in the world.
You are the speaker at the first breakfast event in the 2016 CitA Smarter Co-Operative Building Series. What will you be discussing at the CitA breakfast event on 10th February?
It is an honour to be asked to contribute to this event, and I am thrilled to be participating. Being an Irish Citizen (Dual Citizenship with the US, my Mom's from County Meath, my Dad's from County Donegal and I was born in New York City), it is always a treat to be back "home".
The topic I will be presenting is titled: BIM 2.0: Building Digital Momentum for Ireland's AEC Community. It will be a session that will challenge Ireland's AEC Community to rise above the "But, that's how we have always done it mentality" to change workflows, processes, contracts and methods to meet the market demands of Smart Buildings and Smart Cities. There will be a challenge to stop using BIM as an electronic pencil and harness the power of BIM as a data management tool. I will be highlighting examples of real world projects that are implementing not just BIM, but a multitude of innovations to create a better built environment.
What are the best BIM projects you have come across in your work and travels? Could you please tell us about them?
There are none. The majority of the people are using BIM like using a hammer to put a screw into the wall. You can do it, but use the right tool.   As for emerging BIM tools, there is tremendous hope on the horizon. Onuma (www.onuma.com), Invicara (www.invicara.com), CyberCity 3D (www.cybercity3d.com) and gaming tools like Cl3ver (www.cl3ver.com) are technologies to watch.

Will BIM affect the duties and responsibilities of the professions?
Two items have always controlled the power of who runs (operates, "owns", etc.) the project, and it is the budget and the schedule.   BIM, up until now, has not captured those two critical pieces of project ownership, which dictates all duties, responsibilities and how one gets paid.   By using BIM as a data "traffic cop", users who understand and operate BIM in this manner will emerge as the power brokers for a project.   We are witnessing the emergence of a new type of AEC professional, the Construction Information Manager.
With the digitalisation of the industry, how do you see construction changing in the next decade?
Under theDESIGNcompany responsibilities is to explore the use of theBIMcompany's fabrication BIM for digital fabrication. We have some projects that do away with the shop drawing process, due to a great fabrication model that drives a CNC machine that delivers the components, panels or sections of our buildings. 3D printing is also interesting in this regard, but not ready for prime time as of today. So the use of BIM data to drive fabrication and manufacturing is a big shift for the industry.
Generative Design (https://en.wikipedia.org/wiki/Generative_Design) is another disruptive technology that we believe will become common practice within the next generation or two. The ability to condense the design process with great design solutions within minutes will change the face of architecture and engineering.
What advice would you give to a consultant or construction company considering BIM adoption?
It can't be just BIM adoption; it must be an Innovation adoption. Document your current processes of how work gets done. Document the workers, materials, workflows… and then conduct an analysis of where you are and where you want to be. Every company is unique, so your gaps are going to be very important for you, because it's difficult to say that because the firm down the street just purchased Revit, I guess I better get Revit, too. By focusing on your unique needs through a Gap Analysis, proper business decisions on innovation implementations can be made in a strategic manner. If BIM is seen as one of those strategic solutions, then you will make the proper choice. But to think that BIM is for everyone in the industry or even for every consultant or contractor? That is a wrong assumption.
With BIM and new technologies, what changes will there be in AEC education?
AEC education is in a difficult position as they are struggling to educate students to be productive and valuable members of the AEC Community while the targets keep moving. Look how long it took to bring CAD into the mainstream education process… and just as they were getting comfortable with that, along comes BIM… and now we have the Internet of Things… and continuous innovation. Tough to prepare students for the Irish market when the market is in flux.
There will always be the fundamentals that a great AEC, and in particular, architectural academic programs should have… the humanities, design theory, mathematics, social studies, art, science, music, literature, etc. should always be a core. But the vocational aspects of professional practice, especially in regards to production, procurement models, etc. we are entering a very fluid time as an industry. Research, Applied Labs, Theory Development and asking the hard questions regarding the AEC industry as a whole is a wonderful role for our AEC academic community.   The Irish AEC academic community partnering with Irish AEC industry companies to address our challenges with real world outcomes should be at the forefront of all stakeholders in the Irish AEC Community. CitA is a great example of this and should be a focus for all in the AEC industry in Ireland.
With your expertise in technology, what advancements do you predict for BIM technology in the next decade?
Artificial Intelligence integrated into BIM is the logical next level of where tools like BIM can be part of not just the AEC industry, but into the operations of the built environment. BIM moving from the design/construction phase of the lifecycle of a building and city and into the running of a building or city provides the opportunity for BIM to become a control solution. Using similar technologies like Apple's Siri, we are testing our version of a Building Siri, that builds a trust relationship between individuals and their built environment with a focus on safety, security and a better user experience. There has never been a better time to be in the AEC industry in Ireland. We have the opportunity to break free of constructing the buildings and cities of yesterday to be able construct the buildings and cities of tomorrow by using today's tools. The digit group, with leadership from Gary Lawlor in Ireland, will be exploring the development of a major presence in Ireland for us to leverage the amazing workforce and entrepreneurial spirit that makes this country and culture such a special place. A place we love, called Ireland.
Bookings and details of the 1st Event of the CitA Smarter Cooperative Building Series 2016
http://www.cita.ie/events/1st-event-2016-2/
For more news on the CitA Smarter Cooperative Building Series 2016 see BIMIreland.ie:
CitA to deliver Smarter Cooperative Building Series in 2016
https://bimireland.ie/2016/01/29/cita-to-deliver-smarter-cooperative-building-series-in-2016/
The contents of this site are subject to copyright laws and may not be reproduced in any form without the prior consent of the publishers. The views expressed in articles do not necessarily represent those of the publishers.