Murphy Surveys, set up over 30 years ago, provides cost-effective survey solutions through a combination of highly qualified personnel and the most cutting-edge technologies available. Continual investment in the latest surveying equipment and technology allows the firm to provide the most efficient solutions that cut costs and risks for clients, while meeting the highest standards in accuracy and detail.
Clients include firms from the public and private sector across the globe and according to the firm, key factors in their success include stringent quality control, efficient turnaround times, and effectiveness to provide superior customer service at all times.
Murphy Surveys also maintains a strong presence in the BIM environment and have completed over 500 models to date for all sizes of projects in various sectors with varying requirements. "We started to use BIM in 2010. Deciding to use the software was really a planned response to the evolving requirements of AEC sector clients," says Ray Murphy, Managing Director at Murphy Surveys. "It was a fairly straightforward decision as we've been involved in 3D since the start of 3D CAD. We were already on the road to understanding what we needed. As a company, we examined the evolving BIM requirements of AEC clients and invested in the most appropriate software solutions that supported the as-built BIM / Survey process." The firm has developed its own exclusive, in-house 3D surveying and CAD/Revit modelling techniques and bespoke data processing software (an AutoDesk add-on). The firm surveys on, above and below ground for a complete and accurate digital record which includes underground utilities, structural tendons and rebars and finite detail such as interior artworks.
The firm uses the latest integrated survey equipment that offers seamless data acquisition and delivery. Leica TS15/GS15 Viva is used to great effect and enables live communication and data exchange from site to office, eliminating delays and costly revisits. The firm also uses Autodesk and Bentley. "There's a lot of choice in the market, more so when it comes to design software. There isn't as much choice for Survey and as-built BIM." According to Ray, BIM gives the firm the competitive edge that's so necessary in today's economic climate, allowing Murphy Surveys to meet the evolving expectations of AEC clients. "Through BIM, we're continually improving the quality of our project deliveries and becoming more involved in the lifecycle of an asset."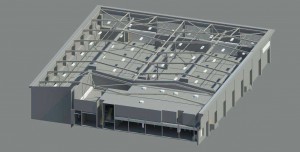 In order to maximise its benefits, BIM should be applied from the very beginning of a project. If it is, then the rewards include a reduction in turnaround time, costs and risks. Murphy Surveys inspect the site conditions prior to the commencement of a project, collecting accurate measurements and any other required data and deliver this in a BIM. Accurate implementation of designs is facilitated through measurement services including setting out and as built surveys, inputting all data into the BIM.  Site conditions are captured using laser scanning for ongoing comparisons with the design. Deviation reports can be produced to monitor construction and the firm's clients can view all captured data in almost real-time. In addition, the firms' as-built Building Information Models integrate directly with existing Computer Aided Facilities Management (CAFM) and Facility Management Systems (FM); ideal for not only buildings but also for civil/infrastructure assets and plant/facility assets.
BIM has made a real difference to how Murphy Surveys operates. "How we capture and deliver information to AEC clients has improved dramatically. Historically AEC client requirements were focused on as-built 2D CAD data deliverables. Now AEC clients are more focused on information in the form of 3D Model data with detailed property information embedded into the project deliverables. We can deliver that." Ray says an increasing number of firms are realising the benefits that BIM can bring to a company. "In terms of clients In Ireland, I think it's slow to start and it will be until clients are requesting BIM as part of the process. I believe a lot of consultants and contractors see the benefits but it's difficult to take this step when projects are still being awarded on price only."
This article first appeared in Irish Building Magazine and can be viewed with this link.