Entry to the BIM Excellence Category of the Irish Construction Excellence Awards 2020 is now open following the launch of the 2020 competition at a photocall in The Convention Centre Dublin with new ICE Awards Judges Mary Flynn, Co-Founder of Public BIM and Dublin City Council Quantity Surveyor and PJ Rudden, Former RPS Director and Past President of Engineers Ireland.
A dedicated 'BIM Excellence' category designed to showcase BIM expertise in the sector is open to entries from Building Contractors, Civil Engineering Contractors, Specialist M&E Contractors and Specialist Contractors. CitA will once again align with the BIM Category at the ICE Awards 2020.
2020 Judging Panel
We welcome an esteemed panel of returning judges including Phelim Devine, Design Director/Deputy Project Director of the National Paediatric Hospital Development Board; Jerry Grant, water utility sector specialist and most recently Managing Director of Irish Water from February 2016 to September 2018; Seán McCarthy, Project Management and Lean/IPD Consultant who was Site Manager of Projects and Construction at the Intel Leixlip campus;  Niall Kane, Head of Smart Places, VINCI Facilities; Keith Elliott, Former Associate Director of PM Group; Emma Hayes, Managing Director of Digital Built Consultants, a BIM and Digital Information Management Consultancy and Technological University Dublin Lecturer. State Architect and Principal Architect in the Office of Public Works, Ciaran O'Connor will also join an already outstanding judging panel for 2020.
The Deadline for entries is 8 November 2019.
Judging
The ICE Awards BIM Category entries are assessed in 2 stages: Assessment Stage and Interview Stage.
An expert panel of judges is assembled from construction disciplines including construction management, engineering, architecture, and cost management. Exclusive to the Irish Construction Excellence Awards, our judging process includes an Interview Stage for the project categories where the finalists will present to our expert judges and showcase their projects and have Q&A sessions. This level of engagement is not only of great value to the entrants but also puts our judging process on a par with best international professional competition practice. The Interview Stage will take place in The Convention Centre Dublin in February 2020. Other categories will be evaluated on the original submission material.
Awards Gala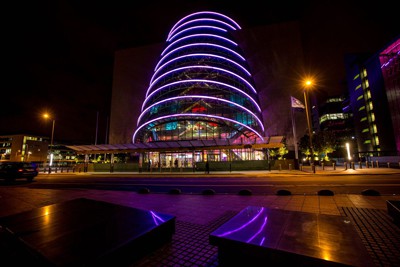 The 2020 Awards will be presented in The Convention Centre Dublin (CCD) on 28 March. Designed by Pritzker award-winning Irish-born architect Kevin Roche and built by Sisk, The CCD is a landmark building on Dublin's skyline. The CCD is Ireland's only purpose-built convention centre and was developed to provide a world-class venue.
ICE Awards Director Colin Walsh, says that moving the 2020 Awards Gala is in response to industry demand to attend. "We have had growing demand to attend the Gala year on year and to facilitate attendance we are delighted to be announcing our move to The Convention Centre Dublin. We are taking the Gala night from one of Dublin's most historic venues at the Mansion House to its new landmark venue at The CCD. We are excited to be working with The CCD team and look forward to delivering 'Construction's Big Night Out' on the 28 March 2020."
Tommy Bowe will be the MC for the Gala. A former rugby star, Tommy is the PRO14's current record try-scorer, with an impressive 148 appearances for Ulster, 77 for the Ospreys, 69 International caps and 5 Lions test caps to his name. 
CitA Co-Founder Dr Alan Hore speaks positively about the ICE Awards. "We have supported this fantastic event for the past two years and want to continue to be associated with this premier awards event."
What interested Alan most about the 2019 Awards? "Most obviously the sheer quality and level of competition in each category with each entrant worthy of an award. I was also delighted to see my friend and confidant John McGowan getting the recognition he deserved by picking up The Industry Contribution Award."
Alan encourages companies to enter the ICE Awards, saying, "It such a great way to promote your business and recognise excellence with your business. Great people make great projects."
Why Enter?
Entering the ICE Awards will provide your company with the following benefits:
Recognise and reward your hard-working teams and attract new talent as a finalist or winning company.
Gain client recognition as a finalist or winning company in Ireland's most prestigious construction awards competition.
Have your work assessed face to face in front of a distinguished panel of expert judges and receive invaluable facetime and feedback.
Network with industry peers at the industry's most prestigious event.
Benefit from substantial positive publicity.
A credible judging process.
The ICE Awards provides a fantastic platform for companies across our industry to celebrate their achievements. Enter at ICEAwards.ie 
Why Sponsor?
Unrivalled Branding Opportunities!
The ICE Awards are firmly established as the premier professional awards for Ireland's Construction Industry. Sponsoring the ICE Awards provides an unrivalled opportunity to align with the Irish Construction Industry's most influential figures. The ICE Awards sponsorship opportunity will put your brand in front of the biggest names in Irish construction. Benefits include:
Ireland's AEC leaders at each Gala.
Unrivalled branding and networking opportunities.
Construction's Big Night Out.
250+ annual entries for the Awards.
Coverage and mentions of the Awards on the RTE News Website, Irish Times, Irish Independent, Irish Examiner, Echo and other regional news media.
Major coverage in Irish building print & digital.
20,000+ page views of ICE Awards content on Irishbuildingmagazine.ie & BIMIreland.ie.
275,000+ annual views on ICEAwards.ie.
All finalists and winners promoting on their websites & social media.
Trended on Twitter – Gala night.
620,000+ ICE Awards Twitter account impressions, annually.
Sponsors promoted extensively in print, digital, web & social media.
Entry submission deadline is 8 November 2019.
Click here to view the 2020 Categories, Judges, Gala Event and to get started with your entry.
For further information please phone: 01 2806030 or Email: contact@iceawards.ie
Follow the ICE Awards on Twitter, LinkedIn, and Instagram.
Follow BIMIreland.ie on Twitter, LinkedIn and Instagram for industry news and views.