JJ Rhatigan's BIM Implementation Manager Michelle Fahey talks to Irish building about collaborative document control on the contractor's projects and the benefits of using Autodesk BIM 360 Docs.
Leading contractor JJ Rhatigan have witnessed improvements in information management and time savings by using Autodesk's BIM 360 Docs on their projects.
JJ Rhatigan's current list of BIM projects is broad and impressive, covering many sectors. Projects in Dublin include Charlemont Square Commercial Development, Lansdowne Place, UCD Student Residences Masterplan Phase 1, Radisson Hotel Golden Lane and the National Forensic Mental Health Service Hospital, Portrane. The list also includes the Gateway Retail Park, IDA Advanced Technology Building, Coláiste an Chláirín and The Dean Hotel, all in Galway together with UCC Student Hub in Cork, Ennis CBS in Clare, St. Patrick's Hospital in Waterford, Gaelscoil an Choillin in Westmeath and Coláiste Chiaráin in Athlone. Their BIM projects in the UK include Hackney Gardens and Carolyn House in London and Hope House in Bath. BIM Implementation Manager Michelle Fahey tells us about working with the Autodesk tool.
Digital tools are critical for managing documentation on today's sites. The Autodesk BIM 360 platform is at the forefront of the digital tools on JJ Rhatigan projects Michelle says. Autodesk BIM 360 Docs is a collaborative cloud-based document management system which gives projects a single source of truth.
"JJ Rhatigan manage all projects using our BSI certified BIM procedures which comply with PAS 1192-2. One of the main aspects of PAS 1192-2 is the use of a Common Data Environment (CDE), this allows a single source of information which can be accessed by all members of the supply chain for all projects."
JJ Rhatigan implements this requirement using Autodesk BIM 360 Docs as this platform is user-friendly and easy to navigate. "Autodesk BIM 360 Docs promotes increased collaboration by providing all members of design teams easy access to the latest information, stored in one central area. It provides features for drawing mark-ups and comparisons."
Collaboration
With the use of the Autodesk BIM 360 Docs app, team members can access all documents that are available on the desktop, on site via mobile devices. This permits the creation and sign off of RFIs and submittals in the Project Management section on the CDE.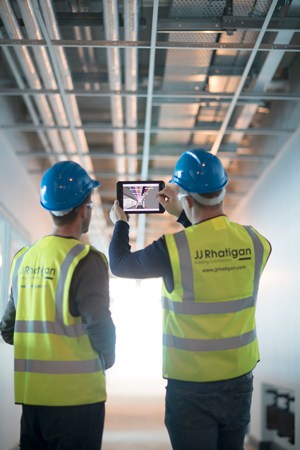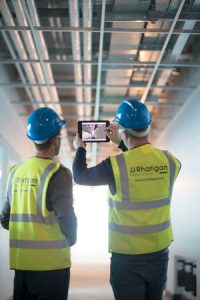 Team members can use the mark-up tools through the app on site, this can be further assisted by using the offline option. This facilitates a seamless collaborative environment for design and feedback with all internal and external parties resulting in the speedy provision of construction documentation to the site team.
JJ Rhatigan embarked on its BIM journey in 2013, making the strategic decision to transition to a fully collaborative BIM environment. As featured in Irish building magazine, in 2015 JJ Rhatigan proactively invested in the Autodesk BIM 360 tools, becoming the first Irish contractor to hold an Enterprise Licence and as such Michelle says JJ Rhatigan are a valued contributor to the strategic development of the platform. "As part of this partnership with Autodesk we continue to participate in monthly meetings to develop the platform and enhance functionality further."
The Enterprise Licence allowed JJ Rhatigan to grant permissions to all project team members to access their system. It also allowed them unlimited access to all the Autodesk BIM 360 products including Autodesk BIM 360 Docs. In 2017, the Autodesk BIM 360 Docs platform was used by JJ Rhatigan to demonstrate the company's CDE capabilities. JJ Rhatigan received their BIM certification which is verified by BSI as a Tier 1 Lead Contractor which includes Design Management complying with BIM Level 2 in accordance with PAS 1192-2:2013, BS 1192-4:2014 and BS 1192:2007.
Improvements & Savings
The intuitive Autodesk BIM 360 app means that JJ Rhatigan's foremen and engineers can spend more time supervising on site rather than on a desktop computer. Michelle tells us, "the entire project team is given access through the Autodesk BIM 360 portal and can interact with all documentation and drawings via the cloud. A traceable thread of mark-ups and live commentary can be created in the digital space negating the need for uploading and downloading files."
Because JJ Rhatigan already had an internal Document Management System the transition to Autodesk BIM 360 was smooth as a digital and collaborative culture within the company was already established.
Some of the main improvements since JJ Rhatigan's introduction of Autodesk BIM 360 Docs include less printing of documents on projects, especially drawings, as Michelle says, "all the latest information is available in one portal which eliminates any disconnects between the site and the office.
All project teams have access to mobile devices which can access all drawings and project documents in the field. We are finding that hours are being saved by team members resolving minor clashes with subcontractors prior to coordination meetings. Quality, Environmental and Health & Safety Managers are also able to access company forms in Autodesk BIM 360 to ensure greater control and continuous progress on site. This allows clients to have programme and budget certainty on their project."
Prior to using the Autodesk BIM 360 platform all the company Health & Safety, Environmental and Quality Management forms were printed out on site, handwritten and scanned back into the Document Management System.
The introduction of Autodesk BIM 360 dramatically reduced the time spent completing quality checks and forms on site. Michelle explains, providing the RFI
workflow as an example, that projects have enjoyed up to 75% time savings with Autodesk BIM 360.Once the iPad is synced to the system all the information can be viewed immediately by the intended recipient.
JJ Rhatigan have document controllers on all their projects who monitor the company standards and requirements. Sites are audited regularly by their internal quality team to ensure that company procedures are being followed.
JJ Rhatigan can see solid benefits through the companywide adoption of the new workflows using the Autodesk BIM 360 platform, in particular, the areas of Health & Safety, Quality, Environmental and BC(A)R. These benefits are also transparent on all project stakeholders' workflows due to the collaborative nature of the platform.
Standards & Training
JJ Rhatigan is Quality ISO 9001 certified by NSAI and BIM PAS 1192-2 certified by BSI and is currently transitioning from PAS 1192-2 to ISO 19650 with certification due the end of May 2019. During the initial project set up JJ Rhatigan agree the CDE and the PAS 1192-2 folder structure including the naming convention for the project with the client and design team. Following on from this, they review the BIM Execution Plan with the project team members to finalise the BIM deliverables.
When Autodesk originally released the Autodesk BIM 360 apps, they were only available on iPads. Currently JJ Rhatigan have over 250 iPads within the company for Autodesk BIM 360. Now Autodesk apps are available on android but the company remain with iPad as a standard. "Some of our project team members prefer to use the apps on their mobile phones, as the apps are compatible with all smartphones."
Currently, JJ Rhatigan are developing their own online training platform. The platform provides training per department role within the company Michelle says. "The training programmes are based on targeting the company procedure requirements and training on our different company platforms. The training platform contains a library of CPD courses that individuals can choose from including a selection of Autodesk BIM 360 training videos. Our teams avail of a structured online portal which can be accessed both in the office or remotely."
Speaking on the future of document management on sites, Michelle says JJ Rhatigan sees preconstruction contractor involvement and collaboration as integral tools to achieving their pillars of success. "This needs to be the core for the future of document management on site, the ability to collaborate and openly communicate through a platform with one source of truth is the key to integrity and trust on site."
Client Focus
JJ Rhatigan work collaboratively with clients, project teams, designers and consultants to ensure value is added by early involvement in design, pricing, risk management and programming. "With Autodesk BIM 360 we have this unique platform to ensure Lean/BIM projects can be delivered to the business benefit of both our client and our construction partners." Michelle says experience has taught JJ Rhatigan that when they are brought in at the earliest stage of a project, there are improvements in programme, buildability, sustainability, change control, dispute avoidance and, crucially, client satisfaction.
Padraic Rhatigan, Managing Director comments: "We see our clients and suppliers as partners included in and satisfied with every stage of our process. This technology allows for greater collaboration and more efficient communication between our teams, our clients, design teams and suppliers. We are committed to understanding the needs of our clients and building relationships based upon credibility and long-term value, recognising the worth in each other and collaborating for better results."