Checking the quality of digital information is an essential part of any project at Laing O'Rourke. It begins with initial clash checks, design iteration checks and model revisions, continues by checking the precast concrete products manufactured at Laing O'Rourke's offsite manufacturing facility, Explore Industrial Park (EIP), and concludes with further checks carried out at the project site itself.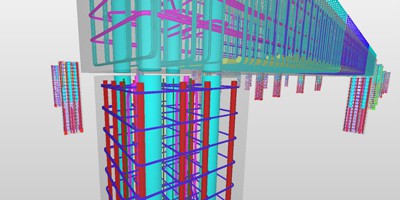 Laing O'Rourke is one of the UK's leading construction and engineering enterprises bringing innovation and excellence to the sector through its digital and offsite manufacturing approach. Laing O'Rourke's Explore Industrial Park (EIP) – the most automated concrete products facility in Europe, based in Steetley – is central to its DfMA (Design for Manufacture and Assembly) approach. EIP develops the design models which are then used to create the precast elements required for the individual project at hand.
One of Laing O'Rourke's current projects is a hospital in the North of England, where the team is using Solibri across the entire project. Antony Aucote, Senior Digital Engineer at Laing O'Rourke, describes: "The project team is very keen to use and benefit from Solibri. It's not just us as the digital engineers, we have the commercial team, designer consultants and planners using Solibri for everything, from detailed model checking and clash detection to carrying out their weekly project reviews." The software also comes in handy when creating preparation packs for the operatives on site, including screen shot and sequencing video production, all extracted from Solibri. "We use all the different things that Solibri can do at the different stages of our projects."
"The value that we get from Solibri is the efficiency," adds Robert Broad, Senior Digital Engineer at Laing O'Rourke. "We're using it for checks that previously would have been quite difficult and labour intensive to do manually." With Solibri, Laing O'Rourke has been able to automate a great deal of their model checking, bringing overall time savings and quality into the checking process. Broad continues: "We're not just using the standard clash detection ruleset, but also most of the advanced geometry rulesets. For example, the component distance check to ensure, say for a cast-in coupling, that the corresponding parts in the other component are within a certain distance." Other examples include the alignment checks and measurements to satisfy minimum requirements for factory production, as well as tolerance and access space checks to ensure a safe assembly on site.
"Model checking just gives us that complete reassurance that when the project is actually put together on site, everything works exactly as it should."
Since there can be many different teams working on multiple elements on each project at the same time, it's inevitable that clashes will show up. That's why Laing O'Rourke values the importance of high-quality model checking throughout their processes. "There has been high level savings by using Solibri early in the process and it has allowed us to rule out faults further down the line," Aucote concludes.