BIMIreland.ie chats with LES about their products and services and hear about the ranges of hardware and software they will be displaying at CitA Tech Live on November 8th & 9th.
LES are agents for Leica Geosystems and have over 40 years' experience in supplying, repairing and hiring all survey equipment, providing advice and training in all facets of surveying and engineering. LES have developed a reputation for a fast reliable service, with full technical support. LES specialise in the Leica iCON series of construction and construction surveying instruments. They offer the entirety of the Leica Geosystems range of hardware and software which will cover all your survey and site needs.
LES are distributors for GeoSLAM 3D scanning equipment, GeoSLAM are specialists in handheld 3D scanning technology, LES supply Microsurvey survey and desktop software/hardware products,  PointCAB3D scanning processing software, Clearedge BIM verification software and Rothbucher Systeme smart target.
CitA Tech Live media partner BIMIreland.ie speaks with LES about the company's products and services.
Can you describe your products and services?
LES are a leading supplier of land survey and precision measurement technologies from Leica Geosystems and GeoSLAM. We offer a full range of survey and construction hardware and software supplying professionals from Surveying, Engineering, Construction, Archaeology and Forensics. Civil engineering and construction projects present many challenges for which we can offer wide-ranging solutions for surveying, monitoring, scanning, and other survey tasks. We offer free technical support and training accommodated towards your workflows and instrumentation and advise in streamlining it too.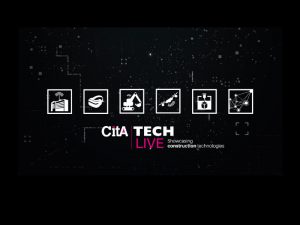 What makes your products and services stand out from the competition?
LES have certified technical experts on hand to help guide you through each stage of your project from site to office and are on call at all times to provide you with support when required. We offer comprehensive instrument calibration, servicing and repairs on a wide range of surveying equipment. Leica factory-trained technicians giving you confidence in the level of service you receive. Our instrumentation is to BIM Level 2 standards.
Finance packages available for business offer you greater flexibility when purchasing new equipment
Can you describe what you will be displaying at CitA Tech Live?
We will be displaying the Leica range of 3D scanners from the BLK360 to the new RTC360, as well from Leica the iCON range of survey equipment showing the IFC model directly loaded into the controller for site set out. The GeoSLAM REVO RT, showing you live captured and processed data as you walk and scan. Also, software demonstration on Verity by Clearedge, this software will allow you to compare 3D scanned data to the BIM model allowing you to deliver fast results on site. Come by and ask us how we can help you out.
CitA Tech Live takes place at Croke Park on November 8th & 9th. You can register here.
Follow @CITA_Ltd  & @BIMIreland on Twitter #CitATechLive