BAM's Project BIM Manager Derek Bourke tells us about building The Museum of the Future and how digital construction is making a difference in Dubai. Dubai is a city that wants to showcase technological innovations and the global construction firm BAM are building one of the key buildings in the city.
A Mechanical Engineer by profession, Tipperary man Derek Bourke worked with BAM Ireland on a number of large national projects, including the DIT Research Hub and Microsoft's HQ, before relocating to Dubai to work for BAM on The Museum of the Future. Dubai Future Foundation is the client for this project with Meraas acting as the client's representative. The project team is the who's who of international construction! BAM Ireland and sister company BAM International are the main contractors. BuroHappold are the lead consultants on the project looking after all engineering and services design. Killa Design are the architects and Aecom are the cost consultants.
The BAM Ireland team with BuroHappold, presented this project to an impressed audience at the CitA Digital Transition Series June meeting. Derek tells us more about building in Dubai.
Can you tell us about The Museum of the Future and the purpose of the building?
It is a major project technically and in scale. This €190 million, 30,545m2 museum will have a unique form, with its futuristic stainless-steel façade featuring illuminated glazed Arabic calligraphy.
The building is in a prime location adjacent to Emirates Towers, home to the government of Dubai, and will be directly accessible from the Dubai Metro. Once completed the Museum's exhibition spaces will showcase innovative and futuristic concepts, services and products, with other spaces for labs, food & beverage outlets and a 400 seat auditorium. The Museum will be a centre to engage the public in different conversations about what the future might look like. The exhibits will change constantly, creating a facility for futuristic innovation.
The focus on innovation extends to the Museum's planning, design and construction. BAM are using BIM processes and technologies during construction to improve quality, efficiency, and safety, while reducing time, costs and defects.
Can you describe the building itself?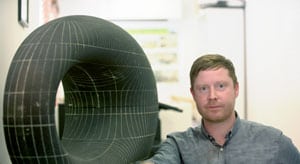 The building is like no other I've ever been involved in. The superstructure is what captures the eye and the imagination. It consists of 17,000m2 of embossed stainless steel in the shape of an elliptical donut culminating in a column-free internal floor plate. That cladding includes glazing, the outline of which follows the Arabic poetry of the Ruler of Dubai, HH Sheikh Mohammed. Founded on a combination of piled and raft foundations the reinforced concrete works come up three levels to a podium which houses the main ring beam off which the diagrid steel structure commences. 4,500 tonnes of circular hollow sections, trusses and composite decking will be carefully erected over a ten month period whilst the external stainless steel cladding will progress in tandem. Two link bridges, to the Emirates Towers and the Metro Station are also included in the works, along with all utilities diversions, road improvements etc all to a LEED Platinum Standard.
At present, the erection of the steel structure is progressing from floor level six to seven. Approximately 3,000 tonnes of structural steel has been installed, along with temporary towers to support the steelworks. Over 500 workers, including 80 welders, are working day and night on the steel structure.
Can you describe BAM's Scope of BIM Implementation?
As the principal contractor on the project, BAM is responsible for the final detailed design of the project and all aspects of construction execution. 3D integrated elemental design modelling made it possible to design and coordinate information between the design team and engineering disciplines, including the quantity surveyors and construction management team.
The goal was to use BIM processes and methods during technical design and construction delivery to improve quality, efficiency, and safety, while reducing construction time, costs and defects. This ambition is being realised by the intrinsic use of technology at every stage of the project delivery. BAM Ireland's experience in digital led projects has enabled a high level of integrated design and construction, impossible to achieve with traditional methods.
Without BIM this project would have been impossible. BAM provides a collaborative ecosystem which provides all project members with access to the latest information always. This allows the Design & Construction teams to communicate freely when issues regarding design and coordination need to be resolved quickly.
One of the principal reasons that BAM won this project at tender stage was the BIM capabilities of BAM Ireland. During the tender stage, the client was encouraged by the external certification that BAM Ireland held in BIM design and delivery from the British Standards Institute (BSI). The BSI Kitemark certification received by BAM Ireland demonstrated a mark of excellence which provided the BAM tender with an advantage over competitors.
The project team's dedicated approach to 3D technology supports all aspects of coordination, logistics, health & safety planning; with animations, renderings and walkthroughs provided to support decision making, offsite prefabrication, laser accurate field layout and 3D laser scanning verification.
4D programme planning visually articulates project phasing simulations, construction sequencing, and just in time (JIT) deliveries.
BAM's commercial team is using 5D BIM to achieve real-time conceptual model planning; including quantity extraction to support detailed cost estimates, trade verifications from fabrication models, value engineering and prefabrication solutions.
BAM Ireland's award-winning approach to BIM powered facilities management is being leveraged by the client to achieve Life-Cycle BIM strategies with asset information models, BIM embedded O&M manuals, Construction Operations Building Information Exchange (COBie) data population & extraction.
BIM delivery on this project is entirely supported by the BAM Ireland Digital Construction team based in Kildare. We have weekly, sometimes daily, virtual conference meetings with the BAM Ireland support team. Communication is key and being able to capitalise on their experience has played a key role in ensuring BIM has been a success on the project. The world is such a small place now that we often have members of the support team in Ireland out with us in Dubai to help with training, software deployment and best practice monitoring of BIM delivery on the project. CPD programmes being run by BAM in Ireland are attended by project team members from Dubai by video link. Myself, I try to view as many of the CitA Digital Transition Series meetings online as I can.
What are the main drivers for using BIM on this project?
The drivers on this project include the client's requirement for BIM technology and BAM's own commitment to better project delivery using digital construction techniques.
How have the BAM Ireland team adapted to working on the project?
Very well! The BAM Ireland team have brought with them their good work ethic, energy, leadership and experience, along with their sense of humour and willingness to socialise and create a memorable experience for the entire project team. Many of the key project team roles are being filled by experienced BAM Ireland staff.
What are the main work culture differences?
Climate; it is sometimes 50 degrees Celsius. The working week begins on Sunday and this takes some getting used to, but you do adjust with time. The culture itself here in the UAE has been a big change. The workforce here is very diverse, and you encounter many different nationalities and languages on a daily basis.
Have the project team had to upskill in any areas?
On this project, I believe everyone has learned a new skill passed on by one another. They have developed new ways of working involving new processes and software. Everyone is keen to learn and develop. The client's support for technology-use on the project has created a mini innovation hub within the delivery team. Part of BAM Ireland's implementation of BIM on this project is to provide access and training to all staff on site including subcontractors, lead consultant and the client on BIM 360 Glue, BIM 360 Field along with providing an overview on the project BIM scope and Execution Plan. Access to our Common Data Environment (CDE) "Aconex" has provided a single source for collecting, managing and sharing information for the construction team.
Can you outline your day-to-day duties as BIM Manager?
My duties primarily include oversight of the delivery of the client's EIR requirements. I act as the main point of contact for information management issues and liaise with the client and client representatives in this area weekly. I am responsible for managing and maintaining all BIM contract documentation, including subcontracts, along with managing the roll-out and monitoring the use of BIM 360 Glue & Field. I am hugely supported by my colleague Eoin Ryan, who is BAM's BIM Coordinator on the project. Eoin is also a member of the BAM Ireland team on the project and is also from Tipperary.
On-site validation of the install works is a daily task my team look after by laser scanning all onsite installations such as structure and Mechanical, Electrical, and Plumbing (MEP) services. Eoin manages the engineering team who process this data daily and deliver point cloud results for the design management team. I am responsible for the production of 4D construction sequencing and ensuring the commercial team have the necessary model information to support their works. Recently, I have spent much of my time guiding and developing the client's asset delivery strategy. Since October 2017, the project has achieved the BSI Kitemark certification for BIM delivery under the guidance of the Digital Construction team from BAM Ireland. It should be noted that this project is being delivered to the PAS & BS 1192 framework standards and that the project has been independently certified by the British Standards Institution for compliance.
How has BIM been adopted in the United Arab Emirates Construction Industry?
The use of BIM is slowly growing in the UAE. It is still considered optional, the main problem being there are no published and accepted BIM standards or protocols in the UAE.
However, with Dubai winning the hosting of Expo 2020 this has given the UAE a significant boost in the construction industry and there is now an incentive to develop, construct and deliver projects using the latest and best technology.
Does Dubai have a BIM Strategy and is it ahead of Ireland in BIM capabilities?
The Dubai Municipalities published their BIM Mandate in 2013. Dubai Municipality issued circular (196), which mandated the use of BIM for architectural and MEP work on certain projects. This was subsequently widened by circular (207) in 2015. From attending regional construction events I have learned that BIM is on the rise within the UAE and that companies in Dubai are now where we were in Ireland about 4 to 5 years ago. This is relative to organisations' BIM adoption journey with projects where BIM is not often reflected in the contract.
Who are the BIM Leaders in Dubai and can you give examples of where BIM has been used on large projects??
Governmental bodies, such as the Roads and Transport Authority, who became the first government body globally to obtain the BIM Kitemark certification from the BSI.
The three that come to mind are Dubai's Metro Route 2020 extension; Expo 2020 Dubai; Abu Dhabi's new international airport.
Are there any long-term goals and objectives for BIM in Dubai?
Interoperability between different AEC software applications is an ambition. Understanding and awareness of BIM is a major goal as there is still a lack of knowledge regarding the economic benefit and outcome of utilising digital construction.
There is also a need for an agreed definition of BIM to be developed for the region. The mix of global standards requested on projects is causing confusion.
What countries have influenced Dubai's BIM adoption?
There are companies and personnel from countries all over the world working in Dubai. I would say the US, UK and other European countries, as well as China have influenced Dubai in their BIM adoption.
In general, what are contractors and consultants' views on BIM adoption?
BIM has been positively received by the Tier 1 contractors, designers and subcontractors. The Tier 2 & 3 companies are often reluctant to invest in knowledge, training and IT in the area of digital construction. Most people coming to Dubai want to take on a new skill or a new technology. When the clients see the benefit of BIM, they will demand it and contractors and designers will adopt it. BIM is useful for consultants and they will embrace it for the benefits it offers in saving time and cost in design. The lead consultant on this project, BuroHappold Engineering, are experts in BIM.
What is the level of interest in BIM among large private sector clients and can you give an example?
There are many large clients out here interested in BIM. Miral, another of BAM's clients here in the UAE are an asset management company and recently opened Warner Bros. World in Abu Dhabi and they see the advantage of BIM from an asset management perspective.
What would you say has been your biggest success to date on The Museum of the Future project?
Last November, BAM won the 2017 Autodesk University AEC Award for the building category. This was a prestigious award recognising the project team's dedication to BIM and digital construction. It was a privilege to represent BAM at AU in Las Vegas last year and to collect the award with my colleagues from Killa Design and BuroHappold Engineering. It is always nice to be recognised by your peers and to collect such a global award on behalf of the team at BAM.
How would you summarise your experience of the project and the culture to date?
Working abroad in a large city like Dubai is something I always wanted to do, and this was a fantastic opportunity with BAM Ireland. I have adapted to the culture well and so have the seven other Irish guys from BAM Ireland on the project. It is a great experience to work with other multinational contractors and all the Irish guys here are getting great experience working on this prestigious, and complex, project.
The content of this site is subject to copyright laws and may not be reproduced in any form without the prior consent of the publishers. The views expressed in articles do not necessarily represent those of the publishers.