As an international multidisciplinary practice offering design consultancy services for the built environment for over 40 years, UK firm Hilson Moran has significantly increased their investment in digital solutions.
A change in philosophy came with the successful implementation of Bluebeam® Revu®, as the firm embraced technology and customised its usage to open a new chapter in the industry-leading firm's timeline.
The Revu Phase
When Hilson Moran first rolled out Revu, the firm went from 10 licences to an enterprise-wide set of 229 licences within a calendar year. Engineers quickly gravitated towards the sophisticated PDF markup technology in Revu, drawing review, batch overlay, and even custom tool sets, which "the lab" designed exclusively for use by Hilson Moran. Paper use also greatly declined, saving the firm money in the form of lower printing and shipping costs for drawing approvals. "We found real benefits, and I did some measuring looking at just paper use," says Ugarow. "As a company we do measure how much paper we use across the business. We've done that for the last three or four years now, and it's a fact that we are using less paper. Reducing that constantly about 30% over three to four years."
Using Studio and Studio Prime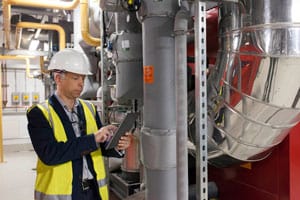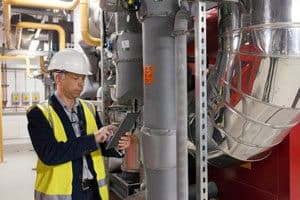 The Studio capabilities of Revu provide the added ability for multiple users to sign in to the same drawing review sessions, offering simultaneous, real-time editing for users who can be located hundreds of miles apart. "What this has given us the opportunity to do is to collaborate with our other offices," explains Ugarow. "We have offices here in the UK in London, Farnborough, Cambridge and Manchester. We also have two offices in the Middle East; in Qatar and Abu Dhabi. We use two or three of our offices to coordinate the design, so again, Revu's Studio feature is actually perfect for that." Given the need for regular cross-office collaboration, the firm decided to add the cloud-based subscription for Studio Prime, which offers all the collaborative possibilities of Studio, but with secure administrative controls and the ability to customise the product using an open API for cross-software collaboration. "I think adopting Studio Prime certainly gave us a bit more level of comfort because you know these days cyber security is a massive issue. A lot of our clients are very sensitive in terms of the projects they do but at the end of the day, you can't sort of push against the tide," says Ugarow.
The Results: An Undeniable Comparison
Hilson Moran's focus on project efficiency played into the firm's effort to measure the impact of incorporating Studio Sessions in Revu into their process. "We did have two projects very similar to one another for the same client," says Ugarow. "The first one, which was done a year earlier, was really designed using the traditional sort of methodologies. We had workshops and discussions about how to coordinate those. With Revu's Studio features, and the second project, we did all that work in the collaboration environment. What we found is that just the sheer number of hours we had recorded during the first version was a lot more compared to the hours spent using the Studio feature. We actually found that if you look at just the production process, (using Studio) was almost 60% more efficient, which was quite a positive surprise!"
Where Do They Go From Here?
The value of the Studio capabilities and subscription-based Studio Prime in Revu has opened the door for more intensive project standardisation within the organisation. "There's going to be some real benefits once we start engaging with external partners, whether it's architects, or structural engineers on the project, or even clients as well. We see huge benefit in that, and I think we're pretty much there to do that on projects now," elaborates Ugarow. Given the 60% efficiency increase in production, earned by using the Revu application's Studio and Studio Prime on projects, working and communicating with project partners will only get easier, giving Hilson Moran a clear advantage within the highly competitive construction industry.
Learn more about Bluebeam Revu at www.bluebeam.co.uk