Minister for Business, Enterprise and Innovation Heather Humphreys TD joined CEO of Autodesk Andrew Anagnost today to announce the opening of a major new site for the company in Dublin.
Autodesk, the global leader in design software, will initially hire 200 people in finance, operations, localisation and sales operations by the end of this year to support its EMEA business.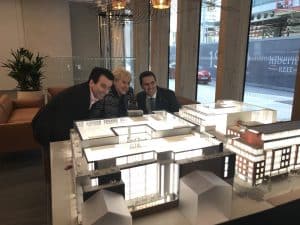 The Minister for Business, Enterprise and Innovation, Heather Humphreys TD, warmly welcomed the investment by Autodesk and said "I am delighted that a company of Autodesk's international stature and expertise has decided to invest in Ireland with a project which will create 200 new jobs. We already have a strong footprint of innovative ICT businesses investing in Dublin and Autodesk's decision to locate its new facility in Ireland, which will develop its cutting-edge services in computer-aided design, is very good news indeed.  We have the IT skills available to enable the company to grow and to embed their operations in Ireland. Their arrival is a great vote of confidence in what we have to offer".
Autodesk is supported by the Irish Government through IDA Ireland.
At an event today held in Dublin, Autodesk CEO Andrew Anagnost commented: "Today we are announcing a significant investment in Ireland which will see us open a new office space and recruit 200 people in the first year. We selected Dublin because of its global business environment, talent, ability to support European languages, excellent long-term cost structure, and quality of life for employees.  Dublin is a vibrant, multicultural and creative city. These qualities align well with our brand and culture and we think Dublin will be a great fit for us."
Commenting on the investment Martin Shanahan, CEO, IDA Ireland said "Autodesk is a global leader in design software.  The company's decision to establish in Dublin strengthens Ireland's reputation internationally as a leading location for companies in the software sector.  Autodesk was attracted to Ireland due to our international reputation as a location where companies can quickly establish their operations and rapidly expand using the strong pool of tech talent."           
"Culture is very important at Autodesk", said Martin Gurren, Dublin site leader. "That's why we are honoured to be ranked 10th in the 'Great Place to Work' World's Best Multinationals report. Fortune also recently named Autodesk in its 100 Best Companies to Work for and Most Admired Companies lists, and we have been named as a top place to work in numerous countries around the world for many years. We are very much looking forward to becoming one of Ireland's great places to work."
While Autodesk hasn't had a site in Ireland for a number of years, it is present in the market. The company's technology is being used by customers to design and build some of the most iconic buildings in Ireland, such as the Central Bank of Ireland and the forthcoming Dublin Children's Hospital, which is the largest public project in Ireland.
Autodesk makes software for people who make anything™. If you've ever driven a high-performance car, admired a towering skyscraper, used a smartphone, or watched a great film, chances are you've experienced what Autodesk customers are doing with our software.
Autodesk is actively recruiting for many roles right now, so if you are interested in joining a company where employees feel empowered to make anything, please visit www.autodesk.com/dublin