Jonathan Argue, Geomatics Technical Specialist at Topcon Ireland talks about their latest equipment, services, applications and savings, BIM and data, and collaboration in shaping the built environment.
Established now for over 20 years in Ireland, Topcon continues to go from strength to strength in our industry. The rise of the 'data manager' role for the surveyor and site engineer has been gearing Topcon towards a software solutions focus to build a Machine Control and BIM educated customer base in Ireland.
New Equipment
Speaking to Irish building magazine, Jonathan Argue said the next generation of Topcon Total Stations has been introduced to meet growing expectations. "Our GT Series uses ultrasonic drive motors with long-lasting gearless design and backed by a 5-year warranty on the motors. As new infrastructure is built, which affects surrounding existing buildings and unintentionally damages protected structures, an increased number of Total Stations will be used to monitor movement remotely. Our new deformation monitoring system, Delta Solutions is a solution for this, which operates a system of software and hardware components. Being able to read current data from a phone or computer is what this generation expects, and this is currently provided by the Delta Solutions."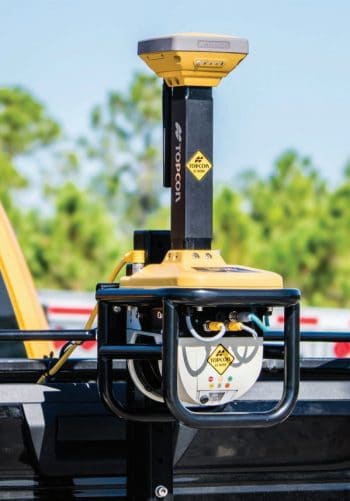 Jonathan told us Topcon have recently added the GT Series, their new and fastest robotic Total Station (TS), and MAGNET Collage Software to their BIM solutions. "It has turning speeds of up to 180 degrees per second and its smaller shape makes it the ideal powerful addition to the BIM 360 Layout options. The processing software for our GLS-2000 Series of compact laser scanners now uses new software, Topcon's MAGNET Collage. This scanner software solution also merges and enables data from our IP-S3 mobile mapping system and point clouds generated from our aerial mapping solutions, Sirus Pro and Falcon 8, to be combined into one point cloud data set and visualisation working environment."
"There is equipment that is not visually labelled as BIM equipment that Topcon provide, like our industry-leading machine control systems that work with 3D surfaces for advanced site and project management solutions. Machine Control systems have positioning devices and surveying technologies installed onto the machine that gives the driver a 3D model to work with. Our newest scanner equipment that complements this range is the RD-M1 (Realistic Dimension – Mapping One) Vehicle Mounted Road Resurfacing Scanner which connects and is adaptable to almost any vehicle with a tow bar. A downward facing scanner for optimal road surface definition that collects point cloud data at scan rates up to 100 times per second. A point cloud of only the road surface is achieved, eliminating time wasted removing unwanted data, and is then used to produce a 3D surface to work with our RD-MC (Machine Control) system to accurately place or remove variable amounts of asphalt per the design. I mention this solution as it adds another dimension of geometric control to professionals conducting BIM projects, that extend beyond the building itself, for road structures and open carparks."
Jonathan described the advantages of new products compared with those of about 10 years ago saying the advantages of having the latest technology contributes to saving both time and money but with Topcon, this also extends from usability.
"Our tech-savvy generations seek touch screen, computer powered app-filled devices with web-based communication, simplified direct workflows and precision that adds value from their positioning and measurement solutions.  New products like our Elite Suite range when combined performs our Hybrid Positioning™ solution that uses the latest Global Navigation Satellite System (GNSS) positioning and optical robotic instruments together for complete acquisition of data on a Windows 10 device, in the hands of the engineer, from one rover pole. The Hybrid Resection technique enables measuring to start at locations that are safe and convenient. Speed, proficiency and cost are the direct advantages with the equipment being utilised at all stages of the process within the construction cycle to optimise these advantages."
We asked what this equipment allows the professional to do easier and better. "A geomatics surveyor has always been committed to providing high quality and accurate geospatial information for the professional requiring this data at the right time. The BIM process means this data is now shared and distributed to disciplines that make informed decisions and act accordingly, at the right time, to save money and add value to the project. This equipment makes that process easier and better."
"Surveying equipment, like the Hybrid Positioning™ package, allows the professional to work immediately in a national map projection and can be used to implement survey control on-site without repeat measurements and set-ups from traditional individual equipment techniques. Having the same data collection software, MAGNET Field, and the same field controller for both GNSS and Optical instruments, it speeds up the process. It gains the advantages of both GNSS and Optical instruments by being able to switch from one to the other when either a view of the sky or direct line of sight cannot be achieved. Achieving a highly accurate survey control network on-site continuously through a project is a number one priority for surveyors and site engineers, prior to and during construction, to ensure geometric consistency. A vital BIM process component."   
Training and Support Services
Topcon provide training to engineers and surveyors. "We run one day workshops for Topcon customers regularly to refresh them on the basics of using a TS and GNSS receiver. The software, MAGNET Field, has been developed to be easy to use with simply workflows and installation on all current Topcon survey products: LN-100, Robotic TS, GNSS receiver field controllers and even two-man TS. A mobile app, MAGNET Construct, like MAGNET Field, can be used with the LN-100 and some robotic TS as an alternative bring-your-own device solution for users seeking an alternative to layout productivity. We engage and support engineers while they develop their survey and site engineering process. We invite additional techniques and workflows into the learning structure to improve performance and help the engineer evolve with new technologies and improved systems of work."
There are two main Enterprise services within Topcon. The first is a Topcon Enterprise Solutions Account which enables a Topcon user to sign into a single portal through the internet to gain access to any of Topcon's support services without using multiple accounts. Jonathan said, "Topcon's next generation of online support and training portal is called 'myTopcon!'  Topcon address their evolving product range and changing technology workflows on-site by making this support information and training available, online, to users through this account. Users of MAGNET Suite software and technology like HiPer HR and GT Series can educate continuously on the workflows and processes to keep them working seamlessly. They also manage their software licences and updates to software to avail of additional solutions when they become available."
"The second is our MAGNET Enterprise solution which is a web-based environment that bridges project tasks by directly improving field and office communications. The field data is uploaded and downloaded from this account onto the field controller using MAGNET Field, when completed this is again uploaded for the office software, MAGNET Office. An office colleague accesses and processes the data or simply provides further data for current or new projects being conducted in the field. This is an ideal way to collaborate and save time. Large surveying companies have been using collaborative portals like this for years and can fit into a BIM process easily. We now through our partnerships have the capability of seamlessly sharing data in the cloud through MAGNET Enterprise with Autodesk BIM 360 and Bentley Projectwise."
Jonathan and his colleagues work with third level colleges such as Dublin Institute of Technology, Dundalk Institute of Technology and Queen's University Belfast. Topcon's relationships with the colleges provide students with work opportunities and education with up-to-date industry tools and technology. Topcon's internships and instrument donations, and workshops have helped bring real-world experience to education. Some students and interns have gone on to have careers within Topcon Ireland.
Collaboration
Topcon and Autodesk have collaborated to deliver expanded solutions for professionals in the AEC industry. Jonathan said it is a continued partnership built upon product interactions like the purpose-built Topcon LN-100 Layout Navigator, and the Autodesk BIM 360 Layout iPad app which now extends to Topcon's new Total Stations into these workflows. He explained what this offers. "Being able to expand and map 3D data into a 3D environment enables companies to save time by using a 3D model and feed as-built geometric data back into the software for updates that assists actions without delay.  There is a large majority of Autodesk users in Ireland and it was a welcome sight to be able to build and add additional setting-out and surveying solutions to an already educated CAD market. We offer scalable solutions for layout and verification using Autodesk, MAGNET or a combination of both with a focus on delivering an incremental return on investment from existing workflows. These solutions continue to innovate the use of cloud technologies to extend the geometric aspect of BIM to the required point on-site. They increase jobsite capabilities by connecting a contractor's office based production with field based completions by moderating error and re-working while saving time to the overall progress."
Collaboration between design software giants and surveying companies will help shape the built environment and Topcon are at the forefront of this, focusing on the deliverable by getting the right data where it is needed as simply and quickly as possible as a repeatable process e.g. for progress monitoring and inspection. Describing the collaboration, Jonathan said "Continued partnerships with these design software companies, like Autodesk and Bentley, will provide a seamless direct link between their software and Topcon's software and hardware solutions, that we then pass on to the Irish engineering and surveying companies. Surveying companies in Ireland are continually expanding their reach and new technologies generate new opportunities and roles that form part of the ever-growing world of geospatial engineering."
For to find out more about Topcon's products and services readers can visit www.topconpositioning.ie