Topcon GB & Ireland has helped leading contractor, Glenbrier Construction Ireland, monitor structural movement during a unique excavation on one of Ireland's most eagerly anticipated and prestigious developments, Number One Ballsbridge.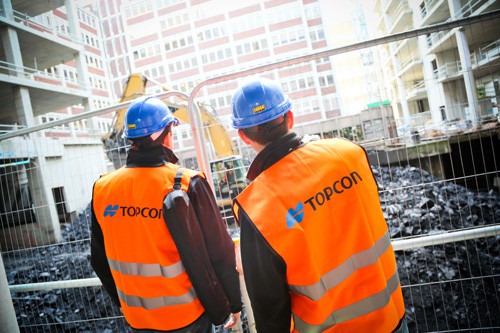 Consisting of three striking buildings in one of Dublin's most prominent addresses, Number One Ballsbridge will feature 12,579 sq. m of high-spec commercial offices and 2,116 sq. m of retail space, alongside five-star leisure facilities and 88 luxury residential apartments. The finished development will nestle into an urban hub of existing high-rise commercial and residential buildings which house some of Dublin's most iconic amenities and the city's Embassy belt.
Due to the size and prestigious location of the build project, a unique method of construction was required to ensure minimal disruption to the surrounding neighbourhood.
Declan Byrne, sales and support at Topcon, explained: "Ballsbridge is an affluent, built-up area of Dublin and a hub of activity so Glenbrier needed to reduce the noise pollution and length of the build process as much as possible. A top down method of construction allowed them to do this."
In top down construction, upwards work is carried out at the same time as the excavation of the basement. By building the frame first and then digging the basement levels afterwards, developers can effectively build up and down at the same time. As a result, the build programme is accelerated and delivery time is reduced. Noise from the excavation process is also reduced as it's buffered by the surrounding frame.
"It's a challenging build process and needs a lot of careful consideration," Declan continued. "In some areas of the site the team are as close as 1.4m to other buildings so they have to do everything they can to minimise the structural risks to nearby buildings while also making sure workers are safe."
Glenbrier is using secant pile walls on the site, which act as a temporary structure to make a safe area for the team as well as preventing water coming in from outside. Due to the construction method, size of the plant and depth of the excavation, consulting engineers also recommended that monitoring systems were put in place.
Topcon's MSAXII total station is being used on the Ballsbridge site, an ultra-high precision surveying device that continuously measures the angles and distance of prisms fixed to a structure. Any change in the measurements indicates structural movement and is immediately communicated to site engineers.
Irish-based specialist civil engineering & site development contractor, Shannon Valley, handled the excavation stages at Ballsbridge.
Stephen McManmon, contracts manager at Shannon Valley, said: "Approximately 140 monitoring prisms have been fitted to the secant pile walls across the two basements levels. The total stations monitor these prisms 24/7, taking measurements for the X, Y and Z angles.
"Any lateral or vertical movement of the prisms is relayed back through the software and an alarm is sent directly to our phones the moment the structural movement is recorded. This gives us accurate and immediate data that is crucial to ensuring the safety of our team and the stability of the buildings around us.
"The monitoring has been extended to cover the area we are working in as our excavation work progresses. It doesn't have any direct impact on our excavation work but is always reassuring to know it's there and that we'll be notified and can act if there are any problems or movements."