John Hunt is the London based overseas advisor for Enterprise Ireland's construction sector clients. The Hunt family have always been closely associated with the industry, with John working on building sites in his school holidays and taking his first professional steps into the industry after graduating in 1994. Since then, and despite having had just three employers, John has enjoyed working at a strategic level with several hundred organisations across the construction sector: small, medium and large.
Please tell us about your work with Enterprise Ireland?
My role as a strategic advisor helps Enterprise Ireland understand not only which companies or initiatives we should invest in, but where an investment of capital, time or both would most likely have the greatest impact over the short, medium or longer term. Where we take a decision to support a company's growth overseas, we would then look to leverage our knowledge and networks to improve the chances of a positive return on that investment. Most of the Irish companies that begin a conversation with the London office are looking to realise a growth or diversification strategy, some are looking to the UK for the very first time.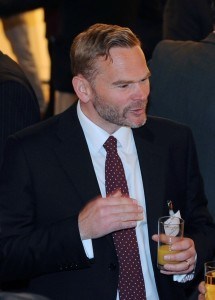 Please tell us why and how Enterprise Ireland became interested in BIM?
The UK construction sector is a mature and sophisticated market. Achieving genuine, sustainable growth or successfully differentiating your product or service has become increasingly difficult. The UK Government's BIM Level 2 Mandate across England presents a 'once in a generation' opportunity to develop new partners and become embedded in new supply chains – to successfully differentiate on your ability to support a project that is being designed, constructed and perhaps operated digitally. The converse is also true, for those Irish companies that fail to keep up with the UK's digital transition, we have €1.2 Billion of trade with the UK construction market at stake. That figure represents 10's of thousands of jobs to families across both countries.
What are your observations when companies start on the BIM journey? 
Since the launch of our first BIM programme in 2013, I have been involved in many BIM journeys and can say they all vary from company to company. Where we have seen commonality might be that the journey has begun as a technology challenge, which has soon transitioned into an information or information management challenge. I have seen the power of digital tools and process really energise individuals; I have also seen the power to strike fear into those that haven't started yet and the power to put the spot light on complacency.
Who are the leading Irish BIM companies working in Britain? Can you tell us a little about their BIM strategies?
We were fortunate to have many of Ireland's leading proponents of BIM involved in our partnership with London's Digital Construction Week last October. With all companies that are well progressed, the challenge is supporting a mix of traditional process and skills with digital process and skills. Of course it would be very much easier to do one or the other, but the challenge is to manage both – to grow digitally reaping the efficiencies and benefits while balancing the associated change management / culture inertia and level of market opportunity for BIM.
What Enterprise Ireland BIM grants are available to Irish consultants and contractors? Can you tell us about them?
We currently have two BIM capability programmes. The first, BIM Enable is designed to incentivise companies to take a strategic (not reactive) approach to achieving BIM Level 2 Capability. The second, BIM implement is to encourage a rapid implementation of BIM capability, but only once you have your strategy in place.

For Irish companies who wish to work in Britain, how do you see the construction industry changing in the next decade?
A sophisticated complex market becoming ever more so. London's success as a global city in recent years has meant that many new international clients of construction appear on an almost daily basis. With new international clients come the new international supply chains with a drive for efficiency and the need for an ever decreasing reliance on site skills and trades which are in short supply. The changes of recent years in London migrate to the other major UK cities first and then across the country. I envisage that we will witness more change to 2025 than we've seen in the past hundred years in construction.
What is your opinion on a BIM Mandate for Ireland?
To overcome the huge resistance 'to the way we've always done things', (no matter how bad they are!) we will increasingly require clients to engage and recognise the positive outcomes of a 'BIM process' as oppose to a traditional process for design, construction and operation. We need public and private clients to be better informed as to which process will provide the best outcome and at the moment it isn't always going to be BIM. We shouldn't mandate BIM where it's not appropriate as contamination may occur even when BIM is appropriate. The UK have taken a lead and should be applauded, the mandate policy has effected a huge shift within industry. With its strong mix of private and public sector clients maybe Ireland could take a more selective approach around which assets should be designed and constructed with BIM?
What is the level of awareness of Irish companies BIM capability and the work of CitA in Britain?
12 months ago I would have to say that the UK's awareness of Ireland's digital transition and adoption of BIM would have been very low. I would suggest that CitA events such as the Gathering and the CitA presentation series have engaged key stakeholders in the UK transition. Further the honouree membership of CitA into the UK BIM Task Group Regional Hubs was a significant step forward for our international reputation as is their strong support of the CIC and Enterprise Ireland in creating a strong unified industry message.
What advice would you give to a construction company considering BIM adoption?
If you're planning to have a successful, growing business in 5 years' time then take the time today to consider how better information, through improved information management and process, could improve the productivity of your business. Consider your particular interfaces with designers, contractors, owners, manufacturers and understand what 'new' potential exists. Also consider some of the softer benefits such as how important it will be in 5 years to attract and retain the best people? Some sectors within construction are progressing through BIM and realising the benefits far more quickly – science projects, transport hubs, secure accommodation, offsite manufacturing for example. Assemble your working group – start today.
Enterprise Ireland
BIM-Implement:
https://www.enterprise-ireland.com/en/funding-supports/Company/Esetablish-SME-Funding/Building-Information-Modelling-Implement.html
BIM-Enable:
https://www.enterprise-ireland.com/en/funding-supports/Company/Esetablish-SME-Funding/Building-Information-Modelling-Enable.html
For general enquiries about the BIM business, contact: BIM@enterprise-ireland.com
The contents of this site are subject to copyright laws and may not be reproduced in any form without the prior consent of the publishers. The views expressed in articles do not necessarily represent those of the publishers.