Plans to reimagine the Revenue Offices in the Glen in Waterford as a hotel have won a top international award for excellence in architectural technology.
Cian Gilligan (21), a Waterford Institute of Technology student has won the Chartered Institute of Architectural Technologists Student Award for Excellence in Architectural Technology (Project). It is the premier accolade which recognises outstanding design achievement in Architectural Technology.
Cian chose the Revenue offices in the Glen in Waterford as the subject for his project on "a retrofit of an existing public building into a complex multi use development incorporating an energy conscious design solution."
[rev_slider CITA]
A fourth year student studying Architectural & BIM Technology, Cian is from Ballyteague Co Kildare and attended Ardscoil Rath Iomghain, Rathangan, Co Kildare.
Robin Stubbs – Course Leader B.Sc.(Hons) Architectural & BIM Technology said: "I am delighted for Cian on his recent success on the international stage with CIAT. Cian, along with his fellow classmates are among the first graduates of the new Architectural & BIM Technology programme in Department Of Architecture. Cian's success is further validation of our decision to re-design the programme to include BIM to its core. This has ensured our graduates are much sought after in industry with a near 100 % employment rate on completion for the past four years. Our aim at WIT is to continually evolve our practices and remain at the forefront in preparing architectural technologists of the highest order for the construction industry."
Cian was presented with the award at the 50th Anniversary Celebratory Luncheon and Awards presentation at The Savoy Hotel on Friday 25 September.
The Chartered Institute of Architectural Technologists (CIAT) which has its HQ in London is the lead qualifying body for Architectural Technology and represents those practising and studying within the discipline.
Cian says the honour is still sinking in. "to have your work recognised by such a well established international organistaion is overwhelming. It is awards like this that aside from college grades, document the hard work an effort that was put in. "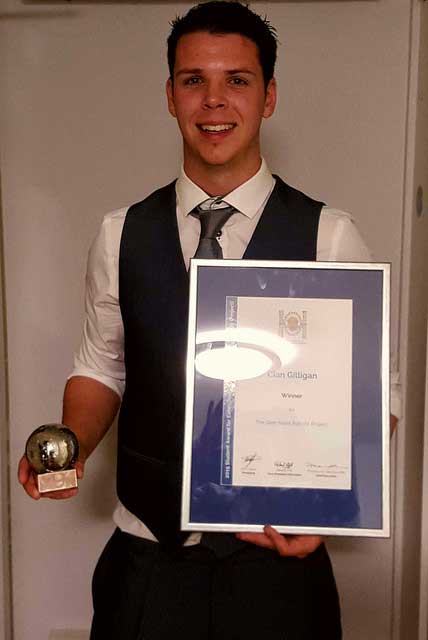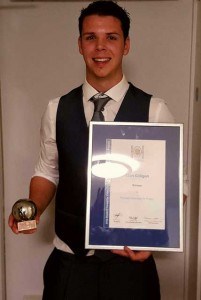 "I have to give great thanks to the lecturers in WIT that have helped me along to achieve this, without them I would not have received this."
What's next for Cian? "I have high aspirations to graduate from WIT with a first class honours degree, this will be my next milestone.
"The most appealing part of this course is the vast range of opportunities that can arise from it. It's a constant learning curve, you come across new problems and challenges every week which keeps you on your toes and keeps you interested."