In a drive towards greater efficiency in the construction industry, the power of IT is being harnessed with traditional paper-based processes and management methods are being challenged and phased out.
By leveraging Building Information Modelling (BIM), cloud collaboration technologies and mobile working, project stakeholders can optimise communication, improve quality, reduce rework, remove clashes, minimize risk and ensure projects are delivered on time and on budget.
Over the last decade, BIM has transformed the design and delivery of construction projects, helping to deliver major cost-savings and removing time and cost overruns from the building process. Governments around the world have noticed the advantages of BIM and, increasingly, are mandating the use of BIM on public projects.
BIM has many advantages, from supporting more efficient workflows and more accurate communication that help address project complexity, to helping firms to compete more aggressively using simulation to explore the constructability of a design and more clearly communicate design intent.
BIM
Many contractors and engineering companies in Ireland are already using BIM software such as Autodesk® Revit®, AutoCAD® Civil 3D® and Autodesk Navisworks® to help keep their construction projects moving forward more predictably and more productively. Revit building design software uniquely creates architectural, MEP and structural engineering models.
Navisworks Project Review software enables architects, engineers and other construction professionals to review integrated models and data with stakeholders, giving all parties better control over project planning and outcomes.
One contractor successfully using Revit and Navisworks is Purcell Construction, a firm employing 70 people at offices in Galway and Dublin. Contracts director Gerry Dolan says: "We made the move to BIM modelling in mid-2014, putting in place our own in-house BIM-enabled team. This has proved to be a very worthwhile decision. In the past year, we used BIM on a number of projects including: a 1,700m2 clean room for Hollister in Ballina: an Acute Medical Assessment Unit for HSE Midlands and Ballinfoile Community Centre for Galway City Council.
"Prior to starting on site in Hollister, the client requested a full value-engineered solution. In conjunction with the design team, all roof mounted services were relocated to within the building, directly over the clean room. This provided many challenges in coordinating all services without clashes, while maintaining the required walk on ceiling clear height of 2m. Without BIM, this would have been a slow and arduous process. By using the BIM process, the client's requirements, in particular the complex service coordination was readily achieved".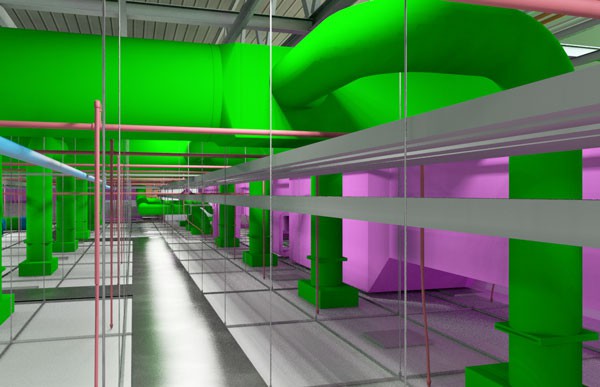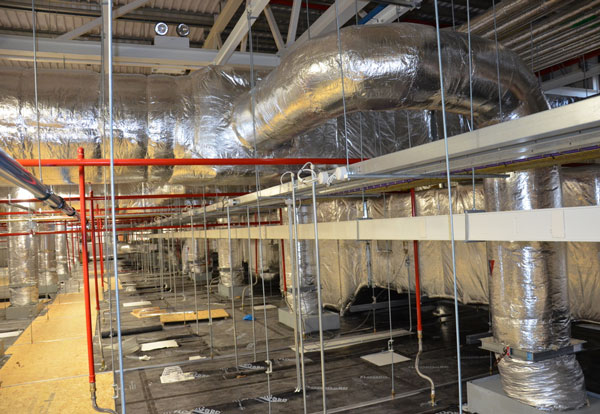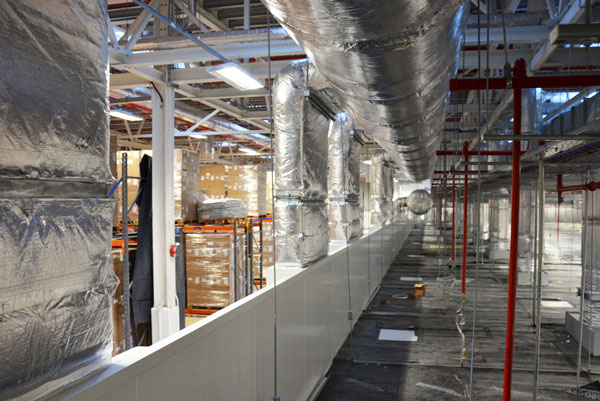 "In Ballinfoile Community Centre, the designed ceiling voids were shallow and services routes were difficult to realise. Using BIM, we were able to, firstly, clearly communicate the issues to the Design Team and then coordinate and re-route the services within the model. Again, using the model, we were able to clearly demonstrate that the rerouted services would achieve the design intent of the ceiling heights, while allowing clear routes for the services. The BIM process allowed clean lines of communication with no ambiguity as to what the final result would be and the revisions and the works were completed within a very short time period."
"We are confident that Purcell Construction is now positioned to fully collaborate with design teams and clients on future BIM projects."
[rev_slider CITA]
Cloud Computing and Mobile Platforms On-Site
Cloud computing and mobile platforms are beginning to be used to help stakeholders get the information they need, when and where they need it, in the office or on a site, so that they can respond more quickly to changes that impact project outcomes.
Autodesk's Point Layout, construction setting-out and as-built checking software, for example, helps contractors and subcontractors bring model accuracy to the field. Model coordinate information at the job site can be used to improve office-to-field efficiency and QA/QC, reduce rework, and increase construction site layout productivity.
Murphy Surveys, a long established provider of Survey Services with offices in the UK and Ireland use Autodesk's Point Layout among other BIM technologies. "Murphy Surveys adopted the Point Layout tool for our Field to BIM workflows on its release. It's an intuitive tool, which was quickly adapted to create a leaner process for generating set-out data for our surveyors from Revit," says the company's engineering and survey manager, Michael Durnin.
"We immediately saw an improvement within our MEP works, where laterals could be set out more efficiently and effectively to meet onsite demands. It also allowed for a more robust and efficient QA procedure, as we checked 'as-staked position's and 'as-builts', updating the models and allowing our teams to inform our client more effectively with quicker updates during works."
Another cloud-based service that simplifies multi-discipline model coordination and clash detection is Autodesk BIM 360 Glue online collaboration software. Architects, engineers, builders and stakeholders can collaborate and coordinate in real time from the office or on their mobile devices. Autodesk's BIM 360 Field construction management software combines mobile technologies at the point of construction with cloud-based collaboration and reporting. The field data provides powerful information that improves quality, safety and profitability for construction and capital projects.
David Harpur of Diatec, Autodesk's largest Gold Partner in Ireland, says, "Autodesk is helping to drive higher levels of productivity into the building design, infrastructure and construction industries both in the office as well as on-site with their expanding desktop, cloud and mobile portfolio. Cloud software, such as Autodesk's BIM 360 Glue & Field and Point Layout, bring these productivity gains into all parts of the construction workflow ".