Family-owned and managed for four generations and
 

celebrating its 90th year in business this year, PJ Hegarty & Sons MD John Hegarty says that longevity can help a company weather economic downturns and

 

Hegarty's

 

has successfully done that during the recent recession.

Over ninety years, the company has built up significant resources to pull us through the bad times, says John Hegarty. "Combined with that, we have become a leaner company in recent years whilst at the same time making a conscious decision to retain key staff which has allowed us to successfully compete for a reasonable share of a depressed market."

"The opening of our UK office in 2010 has helped us generate new business and was part of longer-term business strategy, it wasn't intended to be a quick fix for the recession in Ireland. The UK is also a very competitive market and the bulk of our revenue is Irish – this year we are budgeting a turnover of €145mm and €125m of that will be earned in Ireland, with the remainder coming from the UK."

PJ Hegarty is notable for having twice built the country's tallest building: Cork County Hall in 1968 (67m tall) and the Elysian Building (71m tall) in Cork in 2008. In addition to its expertise as building contractors, the company enjoys an excellent reputation in civil engineering, design & build projects, public private partnerships, fit outs and facility management services.

As building contractors, Hegarty says, the company has been successful in winning repeat business from clients in the food and drink, pharma and IT sectors. He added: "In recent years, as commercial activity has started to move ahead, particularly in Dublin, we are getting involved again in commercial developments."

Additionally on the PPP side, PJ Hegarty were responsible for the construction of the Criminal Courts Complex, an iconic building situated on Parkgate Street in Dublin 8. The 11 storey concrete structure has a Great Hall measuring 40m in diameter and 28m high, around which are placed 22 modern state-of-the-art court rooms, added to this there is also judicial, jury and custodial accommodation, plus dedicated facilities for legal practitioners, victims support and the media, dining areas and a vast amount of circulation space. It is an extraordinarily complex building, with each courtroom requiring four separate entrances – for judge, jury, accused and general public – and behind-the-scenes areas that must be totally isolated from one another. It won the RIAI Public Choice Award in 2010.

However, he added that there are still issues with non-PPP public procurement. "Government procurement is challenging because of the public works contracts that have been in place now for some years which is a very adversarial form of contract. There has been good work done on that recently, involving the industry and government and some positive amendments have been made. However more work needs to be done and the new amendments brought into use as soon as possible ."

Certainly, PJ Hegarty sees itself at the forefront of design and build projects in Ireland and it has an established reputation in collaborating with multi-disciplined design teams. Hegarty said: "We welcome the opportunity to get involved  from the early stages of a project, whereby we can bring our considerable practical experience to bear to ensure a cost-effective solution that is delivered on time, on budget and to the highest standards."

One significant project that the company is currently engaged in is the Dublin Waste To Energy (DWTE) plant at Ringsend, where PJ Hegarty recently carried out one of several concrete pours in excess of 2,000m³ as part of the foundations package. The pour lasted for 14 hours and involved some 240 truck movements.

The company welcomes recent developments such as BIM and Lean Construction and within its staff it has dedicated 'Lean Champions', who are involved in the work of the Lean Construction Institute Ireland. Hegarty said: "The industry is always developing and construction companies need to adapt and take on board new technologies to better serve their clients."

PJ Hegarty & Sons prides itself on being a company that embraces teamwork and builds partnerships and trust with clients and consultants and seeks to approach projects, regardless of size, with honesty, integrity and full commitment. It also prides itself on ensuring that it operates to the highest standards of health and safety .

Currently, the company employs 250 people. At the moment, the company is not suffering any major skill shortages although there are signs of some pressures in this area , but Hegarty said: "In any recovering industry potential skill shortages will inevitably emerge as a challenge – but that challenge can be alleviated if we have a sustainable recovery in the construction industry and if construction personnel who went abroad during the downturn can be persuaded to return home.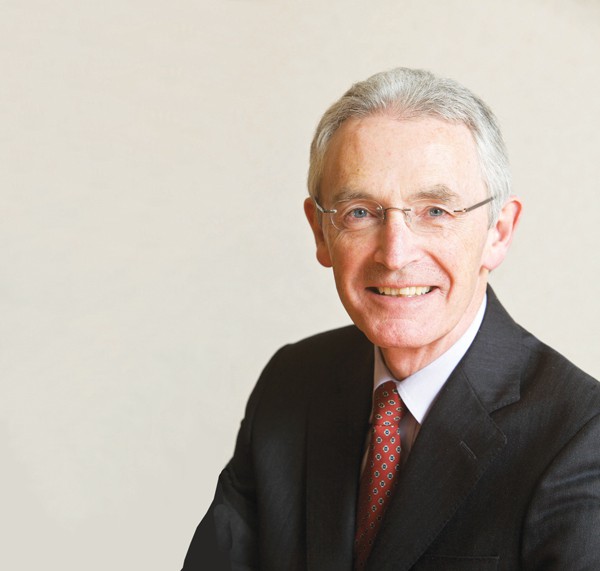 "Over the decades, our company has always been competing at the top levels of the industry. As the industry has grown, so have we and the projects we completed in the 70s, 80s, 90s and Noughties were of their size for that time. The Criminal Courts Complex is probably our most notable project in recent years, but the Elysian Tower in Cork is a first-class building and was a very prestigious project. Also Terminal 2 and Pier E at Dublin Airport, one of the largest construction project in the state at the time, is another outstanding project which our company was very pleased to be associated with.
On the fit-out side of the business, the company continues to win accolades. Recently, PJ Hegarty won a 2014 Fit Out Project of the Year Award for its work at the Novartis offices at Elm Park in Dublin. This involved a complete office fit out of an eight-storey office block, over a basement with a gross internal floor area of 8,600m2.
"Our goal now is to continue to grow the business in a sustainable way by taking advantage of the improving economy and with a construction industry at last emerging out of recession."
This article appeared in Irish Building Magazine Issue 3 2015