Minister for Transport, Tourism and Sport, Pascal Donohoe TD officially opened the M11 Arklow to Rathnew Upgrade scheme, which forms part of the €282 million N7 Newlands Cross/N11 Arklow to Rathnew Public Private Partnership (PPP) scheme.
Minister Donohoe said: 'I am very pleased, as Minister for Transport, Tourism and Sport, to officially open the M11 PPP road scheme, which is happening seven weeks ahead of schedule. The new 16km of motorway is non-tolled and will connect the existing Arklow Bypass with the M11 Rathnew/Ashford Bypass. This creates 90km of motorway/dual carriageway between Dublin and Gorey Co. Wexford and is part of a 280km continuous dual carriageway/ motorway between Clogh in Wexford and Belfast. The project also includes the construction of a much needed service area at Gorey, which will provide 24 hour access to the rest and recuperation facilities that road users need when travelling along this stretch'.
[rev_slider Surety]
Cormac O'Rourke, Chairman of the National Roads Authority (NRA) said: 'The Authority welcomes the delivery of much needed improvements along the M11 corridor. We in the NRA believe that the Government's vision of a radial network of motorways – connected together at the periphery – has the capacity to deliver balanced economic development for the entire country'.
Speaking at the official opening, Theo Cullinane, BAM Ireland Chief Executive said: "We are proud to open the M11 motorway three months ahead of schedule.  This really is a positive development not just for the local community but for all Irish road users, as this important commuter and commercial gateway is now open.  The local community and travelling public have been incredibly supportive and patient throughout the construction process, and we at BAM are especially pleased that the improved freeflow motorway will reduce commute time by 35 minutes and will leave a lasting positive impact on the region.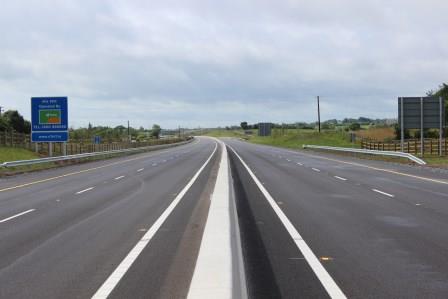 "Transport projects such as this play a significant role in the long term development of the Irish economy.  Transport infrastructure is proven to foster trade and greatly enhance the attractiveness of a region for foreign and direct investment.  BAM is proud of our proven track record of investing in and delivering significant PPP projects across Ireland." Mr. Cullinane concluded.
BAM Ireland has been announced preferred bidder for the M11 Gorey to Enniscorthy motorway and the N25 New Ross Bypass by the NRA. BAM has a long legacy of significant building and civil engineering projects under the PPP model including the Newlands Cross Junction, M1 Dundalk Western Bypass, the M7 / M8 Portlaoise Bypass and the N25 Waterford Bypass PPP Motorway schemes. Last year BAM completed eight schools under Schools Bundle 3 PPP and recently signed a contract for the design, build, finance and maintenance of four schools under Schools Bundle 4 PPP. The NTMA has also announced BAM as preferred tenderer in the development of four new courthouses and the refurbishment and extension of three existing court buildings.