The Leica Roadshow completed it's tour of Ireland at the University of Ulster in Belfast last week having also held successful events at UCD in Dublin and at CIT in Cork.
The Roadshow gave attendees the opportunity to discover the latest in Imaging and 3D data collection for all applications, discuss new technologies, and network with peers and key industry figures.
The Leica DirectTour presented new customer training programs to EDUCATE and develop business, EXCHANGE information to explore new applications opportunities and ENGAGE in group and one-to-one demonstrations.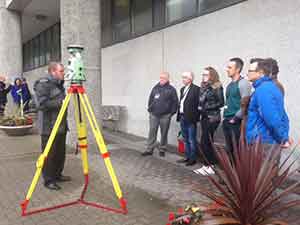 Commenting on the series of events, John Kerrigan, Ireland country manager. said, 'I am extremely proud of the Leica Geosystems team who once again have worked very hard to make the Ireland leg of the DirectTour 2014 a great success.
We have had great feedback from professionals in the field and also from all the university students who attended. Holding these events at universities has proven to be a great way to encourage students to engage with the industry and exchange ideas with potential future employers.
All who attended showed great interest in all our new innovations we have to offer with deals being made on the day.
We are very much looking forward to coming back in 2015. John Kerrigan, Ireland country manager.'
For more information about the Leica range of products visit: http://www.leica-geosystems.com/