Established in 1960, A&G (Acheson & Glover) has spent more than 50 years designing and manufacturing a wide range of products and solutions in concrete for both the residential and the commercial sectors and is recognised as one of the most trusted concrete producers in the UK and Ireland.
Through advances in manufacturing technology and a stringent quality control that stretches all the way from the quarry to the final product, A&G has a team of people who have the skills and imagination to produce world class products that enable professional designers to create inspiring spaces.
In keeping with the company ethos of being in touch with market trends and customer needs, A&G became the first hard landscaping concrete manufacturer to go 'live' on the The National BIM (Building Information Modelling) Library in November 2013.
The National BIM Library, developed and managed by NBS for the UK construction industry, is a free-of-charge online resource enabling construction professionals to locate and download generic and proprietary BIM objects.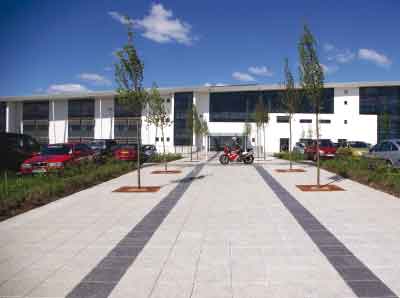 This service aims to host a comprehensive range of systems and products and to become the primary source of standard and proprietary BIM objects.
A&G recognises the growing need for this type of information among professional designers as it can assist workflows and processes by helping the industry to manage and exchange information more efficiently. 
BIM can also help to avoid waste, delays and overruns by allowing designers and architects to review issues in a virtual environment rather than on-site during the build process. 
A&G Managing Director, Stephen Acheson said: "We are delighted to be part of BIM. It provides us with the opportunity to promote our products in an area that will fast become an integral part of the design needs of the 'built environment'."
A&G's BIM products have already proved a huge success. In fact, just six months after being listed in the award-winning BIM Library, A&G has achieved more than 3,000 downloads to date.
"A&G is leading the way in offering specifiers concrete products in various formats," said Hayley Charlton, Product Manager, RIBA Enterprises.
"In recent months there has been a surge in demand for construction products to be available in a BIM format. A&G has taken advantage of this demand and offers its products in the exact formats specifiers want at the very time they need them; when producing building project specifications," she added.
Commenting on the BIM Library success, Brian McConnell, Marketing Manager, A&G said: "We were aware for some time that BIM was going to dramatically alter the way professional designers and specifiers created their projects. Being the first hard landscaping concrete manufacturer to go live on BIM has put us at the forefront of dynamic building modelling software.
"Building on this success, we are currently in the process of creating more BIM models which will be uploaded to the NBS National BIM Library to provide specifiers with even more world-class BIM objects." 
In addition, A&G is all too aware of its environmental responsibilities and can boast to have the best sustainability credentials in the industry. It uses 100% renewable energy and 90-100% recycled water in the manufacturing of its products. 
The company also owns its own local quarries so is able to carefully control the quality of the aggregates that go into the making of its product ranges. This, together with the inclusion of a substantial amount of non-primary material in the manufacturing process, all goes towards ensuring A&G has industry leading carbon footprint statistics. 
With the majority of A&G's business located within the professional construction market, the company has become a key solutions provider for architects, specifiers and builders throughout the UK and Ireland.
A&G's current BIM objects can be downloaded in IFC and Revit format. Other formats will be available soon (ArchiCAD, Bentley and Vectorworks).
You can view A&G's products on the BIM Library, visit http://www.nationalbimlibrary.com/acheson-and-glover